INFRATECH SRU-1615 1500W MEDW
SRU-1615 Portable Curing System
Best Seller!
The SRU-1615 is the nation's number one selling infrared curing machine. With 1,500 watts of power and available in 120 or 240 volts,
this portable unit comes with a heavy duty stand and casters. Its stand adjusts to 6' tall.
The SRU-1615 is dependable, versatile and unbelievably affordable. Maybe that's why over one million "Speed-Rays" have been sold.
These units are suitable for use with all automotive-type finishes. Ideal for small spot repair and curing body filler.
UL Listed
The most economical infrared heater on the market
Heavy duty construction can stand up to the punishing conditions in any body shop.
Part. No. 14-1000
1,500 watts of curing power over a 2' x 3' coverage area makes this product ideal for small area repairs
New, heavy-duty stand adjusts to over 6' high for curing hoods and roof lines
Parabolic reflector creates uniform heat distribution
Energy efficient fixture operates for only pennies per hour
Underwriters Laboratories (UL) Listed
SPECIFICATIONS
120 volts
12.5 amps
36" head
24 lbs.
Part #: INF.14-1000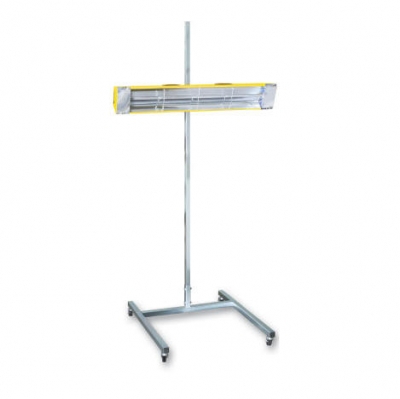 Price and Units
Units: EACH